Why Car Service is Important
Drivers located close to our Alfa Romeo dealership never have to ask, "Are there luxury cars near me?" That's because we have a full inventory of new Alfa Romeo cars and we're always eager to help motorists secure loans and lease packages that have the best terms possible. Just like our dealership should be your destination when you're shopping for a premium ride, you should head to our Alfa Romeo service center whenever your automobile needs some work.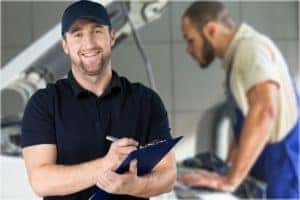 Even when your car is running fine, you still to perform regular service to keep it healthy. Sticking to the schedule in your owner's manual is the most effective way you can ensure your vehicle has a long working life. When you neglect maintenance tasks like oil changes, it can cause serious problems. To start, poor oil quality can have a negative influence on your vehicle's fuel economy. Ignoring regular oil changes can also cause your engine's parts to wear down faster than they would otherwise. Not changing your oil can even lead to expensive damages that put you in danger on the road.
While you can pick up some things in our Omaha, NE Alfa Romeo parts department and replace them yourself, most maintenance tasks are best left in the capable hands of our technicians. If your car needs service, make an appointment with our Alfa Romeo service center today.
Our Service Center
Whether you drive a 2019 Alfa Romeo Giulia, a 2019 Alfa Romeo Stelvio, or an older automobile, our Alfa Romeo service center is the easy choice for both routine maintenance and repairs. Our Alfa Romeo service center near Bellevue, NE has extended evening hours Monday through Thursday and it's open on Fridays from 6:30am until 6pm. We only use OEM parts on our Alfa Romeo vehicles and all of our technicians are factory-trained.
To learn more about servicing your vehicle with us, contact our Alfa Romeo dealership serving Papillion, NE now.
With service so important, you shouldn't trust just anyone to work on your automobile when it needs some scheduled maintenance. Instead, you should trust the experts in our Alfa Romeo service center to handle everything your car needs. Visit Woodhouse Alfa Romeo whenever you need a team of highly-skilled automotive technicians you can trust.